Application:
Taixin electric hoist gantry cranes are general purpose cranes, and they are designed to be used together with CD1 electric hoists and MD1 electric hoists. They are suitable for fixed-span operation in open air, and are especially suitable for situations with low usage frequency or low rated lifting capacity such as factories, railway freight yards, port terminals, hydropower stations, etc. They are not to be used for lifting flammable or explosive materials.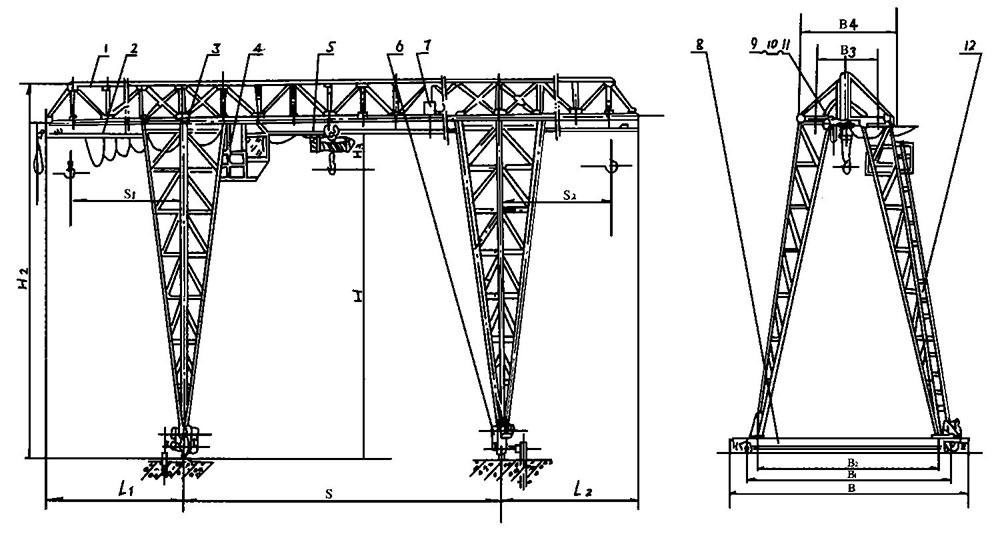 Parameters:
Lifting Capacity(t)
3
5
10
16
Cart WorkingMechnism
Working Speed(m/min)
20,30
20,30
Driving Motor Type
Soft Start Motor
Soft Start Motor
Electric Hoist Type
CDI/MDI
CDI/MDI
Electric Hoist and Operating
Lifting Speed(m/min)
8/8/0.8
7/7/0.7
3.5/3.5/0.35
Lifting Height(m)
6,9
6,9
Crane
OperatingSpead(m/min)
20
20
Classification Grade
A3~A4
A3~A4
Power
3AC,50HZ,380V
3AC,50HZ,380V
Recommended Steel Track
24Kg/m~30Kg/m
38Kg/m~43Kg/m
Features:
The electric hoist gantry crane's suitable lifting capacity is 1-20t, their suitable span is 10-26m. The working environment temperature is -25°C~+40°C.
Electric hoist gantry cranes are small and medium simple gantry cranes with cantilever designs. The main girder is a composite girder welded U-shaped trough plate with an I-beam. The cart operating mechanism is mainly composed of motor, brake, and reducer, wheels and other components.
There are two kinds of control method: cab control and ground control, and the operating rooms can be opened by: end-open type and side-open type, customers can make their desicion according to their needs.
Electric hoist gantry cranes have a simple structure, and they are convenient to use, install and maintain. They have also advantages of fast delivery and economic benefits.
Index
port crane, industrial crane, lifting equipment, rail mounted crane