Application:
The industrial heavy duty gantry crane is specially designed for the loading, unloading, and lifting of various materials within a fixed span in freight yards and open-air warehouses of railway stations, port terminals, and industrial and mining enterprises and materials departments. It can also be equipped with a variety of professional hooks for a number of special operations. It is a versatile general-use lifting device.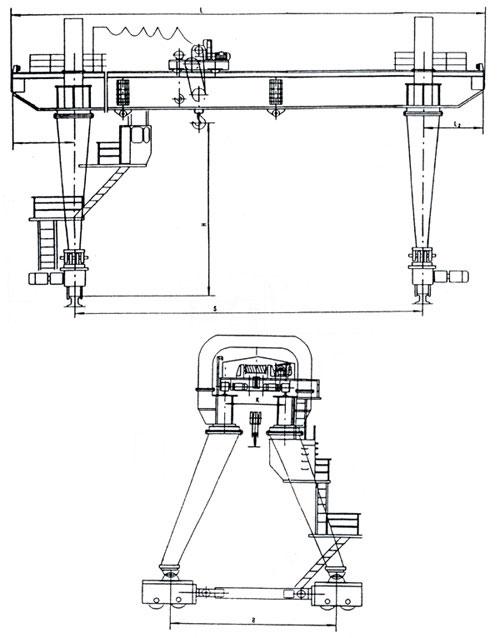 Parameters:
Lifting Capacity(t)
10
16/3.2
20/5
32/5
50/10
Main and Vice Operating Speed(m/min)
7.9
7.9/11.3
7.2/11.6
7.6/11.3
5.2/9.9
Cart Operating Speed(m/min)
39
38
38
36
36
Trolley Operating Speed(m/min)
37
37
37
37
37
Working Classification Grade
A5
A5
A5
Power
3AC,50HZ,380V
3AC,50HZ,380V
3AC,50HZ,380V
Recommended Steel Track
30Kg/m~38Kg/m
30Kg/m~38Kg/m
38Kg/m~50Kg/m
Total Capacity(KW)
40
53
56
90~110
106~129
Features:
Industrial heavy duty gantry cranes consist of a gantry, cart, trolley, driver's cab and electrical device. Their normal lifting capacity is 10-50t, their working classification grades are A5 and A6. The working environment temperature is -25°C~+40°C, the average temperature in 24 hours should not be higher than 35 °C.
The gantry adopts box type double girder welding structure, the operating mechanism of cart adopts respective driving, and all the mechanisms are operated from the control room.
Industrial heavy duty gantry cranes have two kind methods of electricity conduct: by power cable and by slide wire, customers can choose any of them.
Their altitude of the installation and use site must not exceed 2,000 meters. If the altitude is higher than 1000m,then the motor capacity have to be checked.
There are three types of control methods: ground control, control room control, and remote control for customers to choose. The standard control method is control-room control. All the mechanism are operated in the control room and equipped with rain protection devices.
This crane runs smoothly and has good wind resistance. All mechanisms are equipped with safety protection devices.
Index
heavy duty crane, industrial lifting equipment, portable gantry crane